Houses for sale
Haropi House
This spacious house was built in 1995 to the current owners' design and specification. It is situated in 750 square metres of land overlooking the South West bays of Alonissos.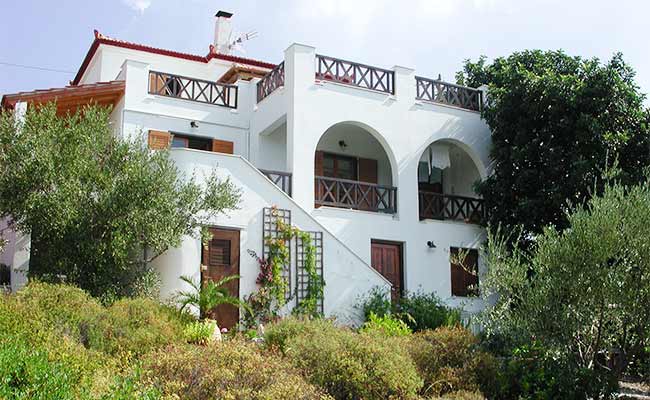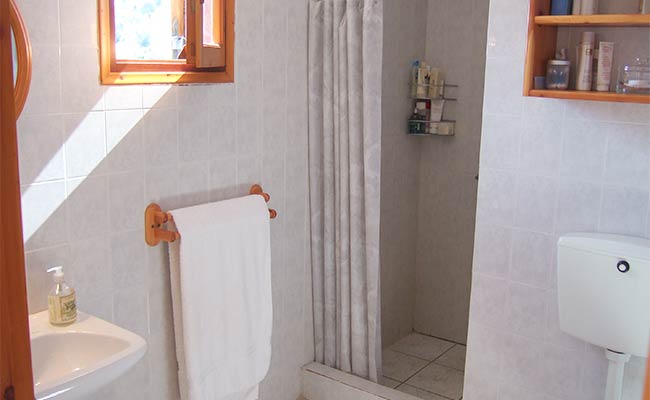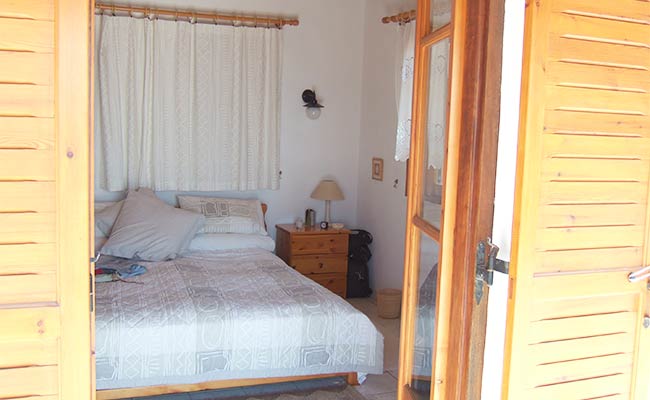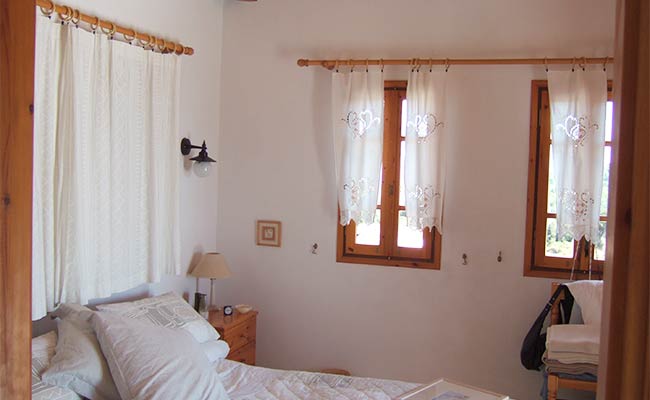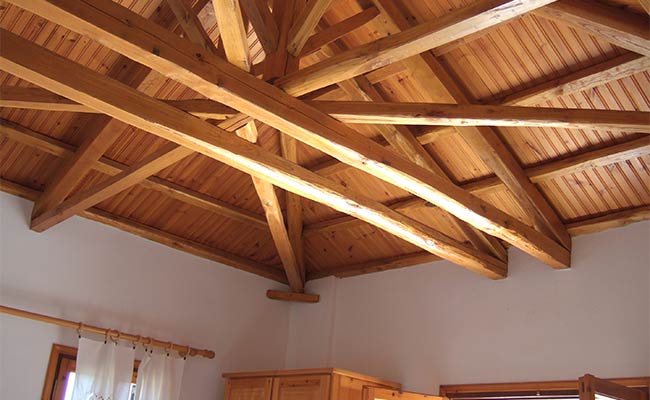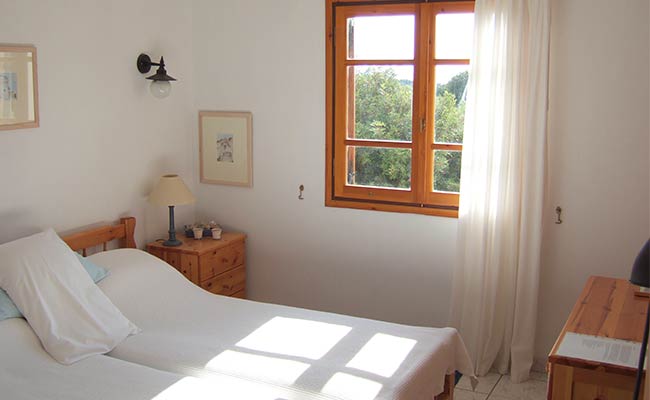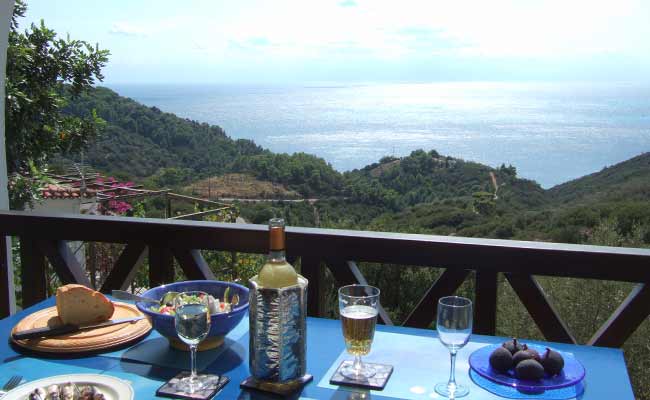 Views
Dining outside Haropi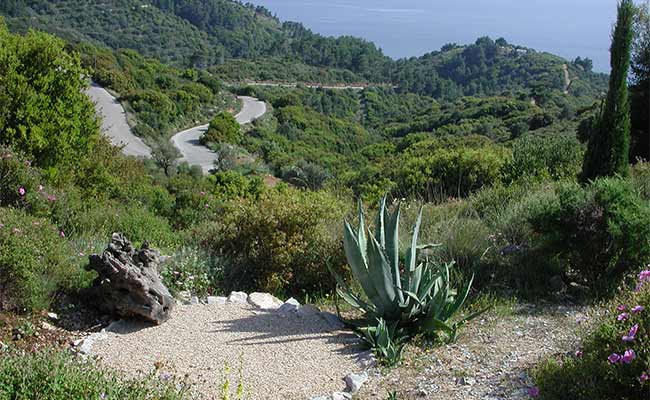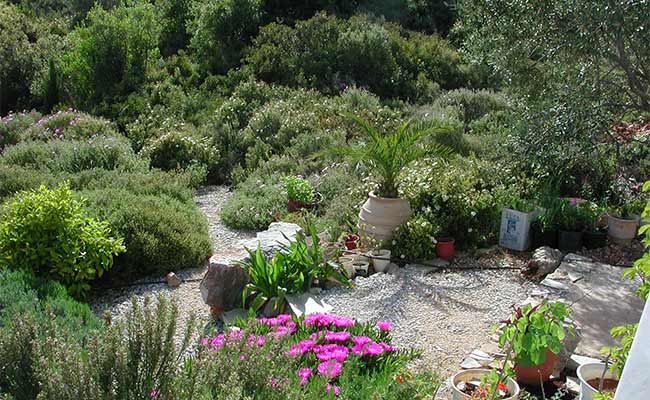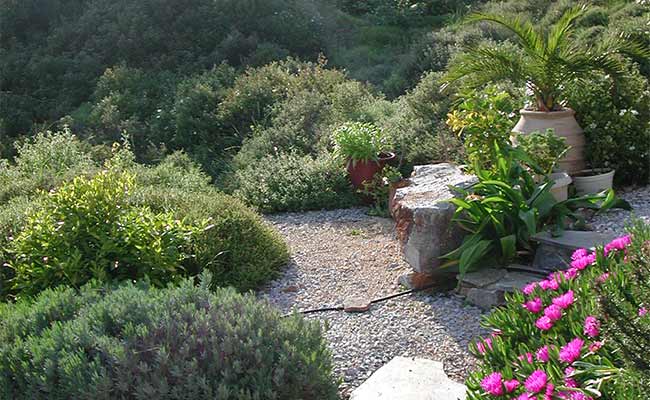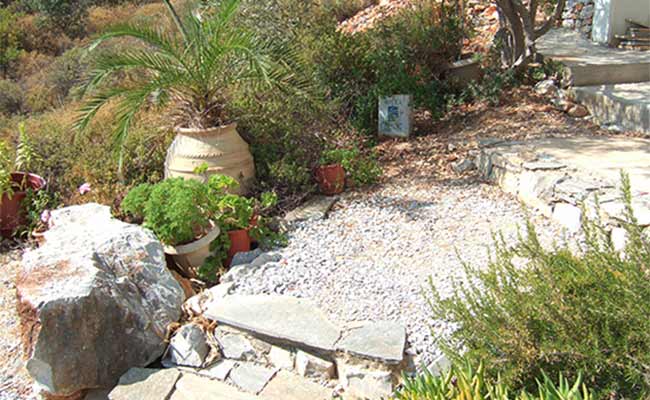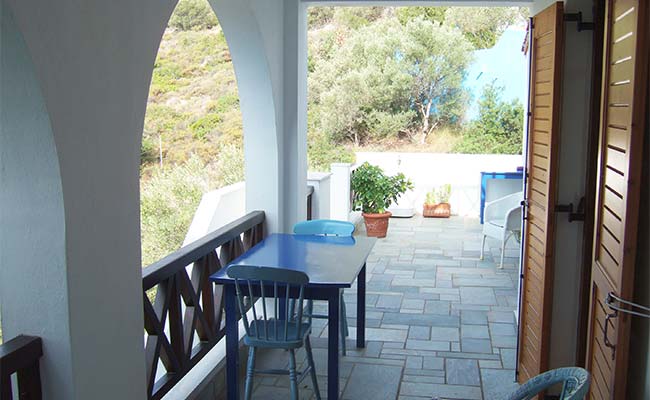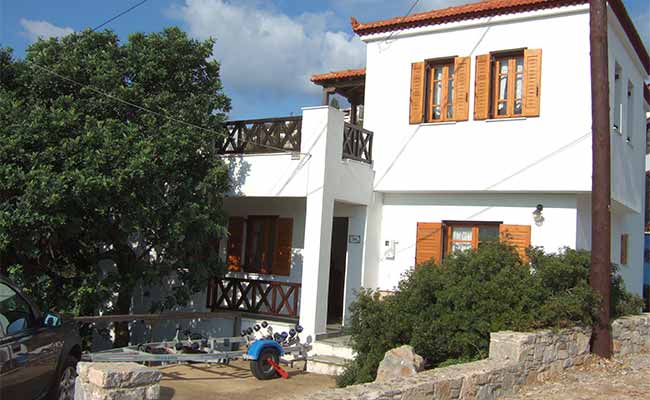 Outside
Outside the property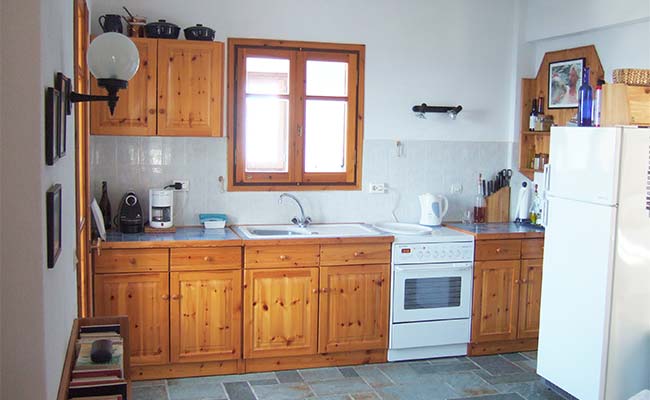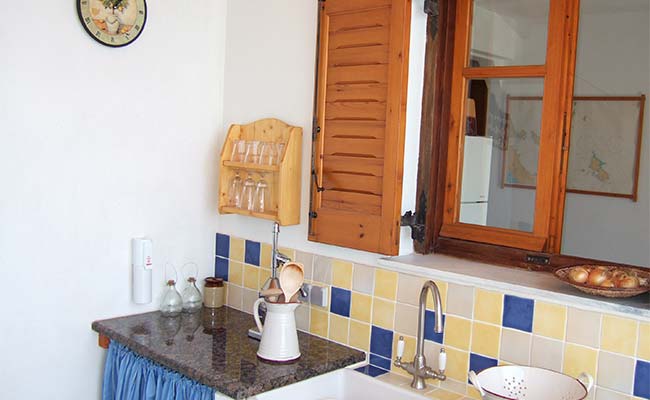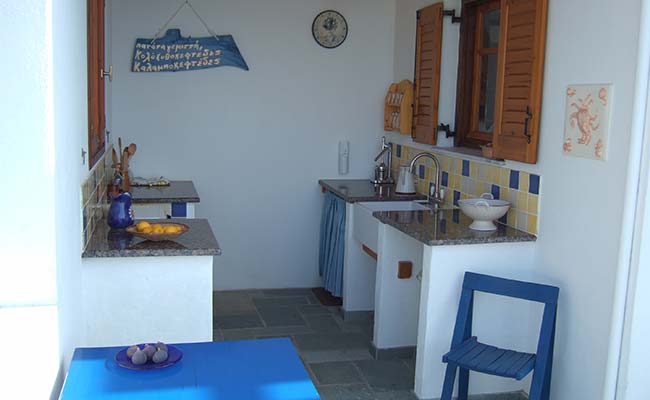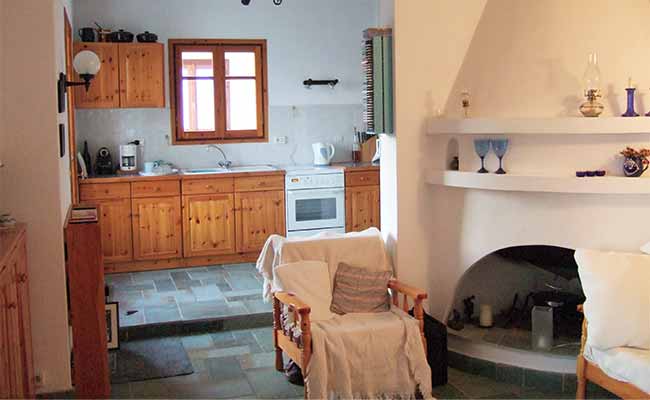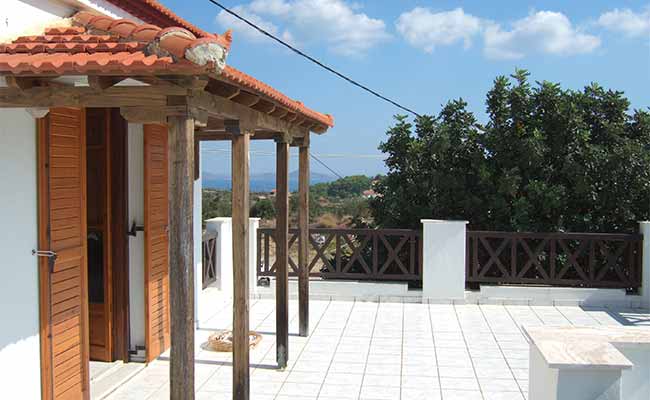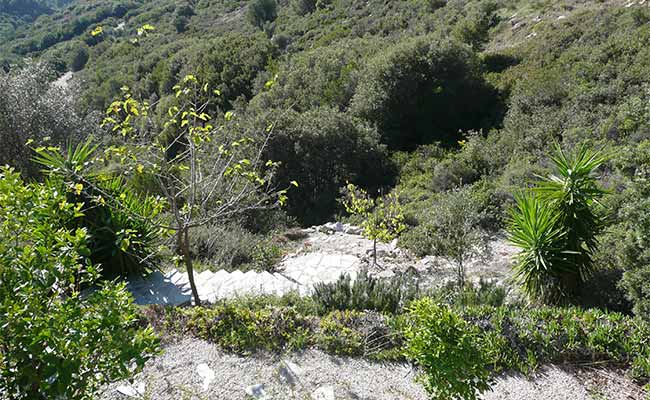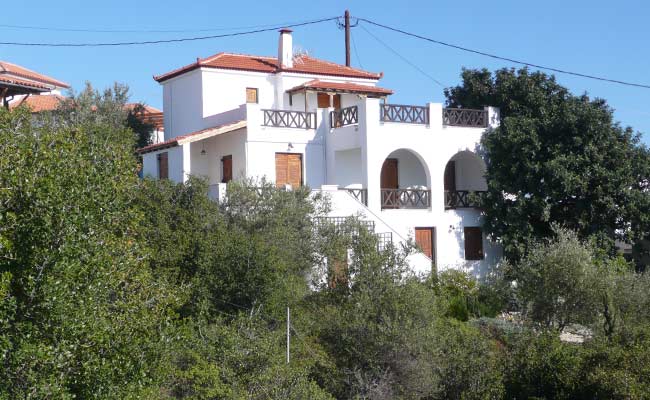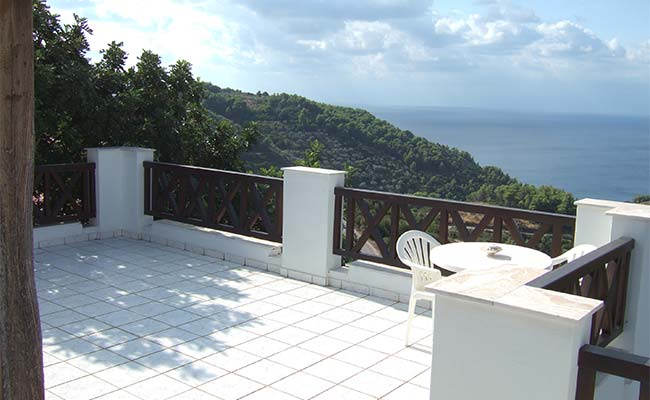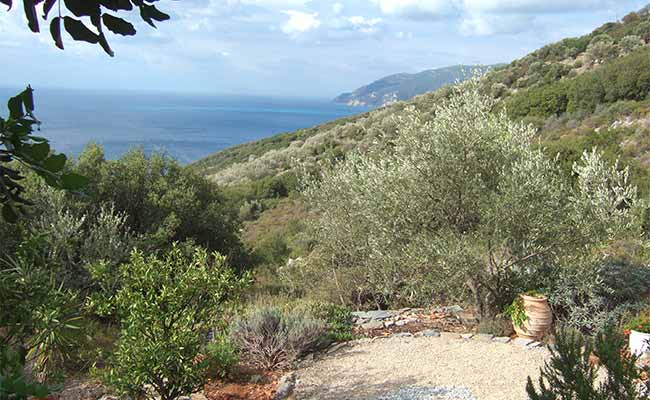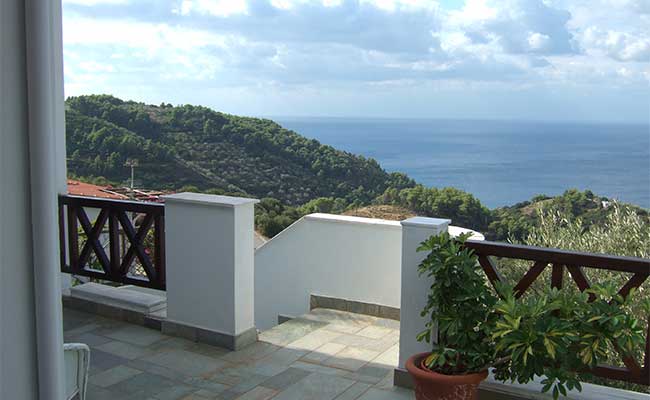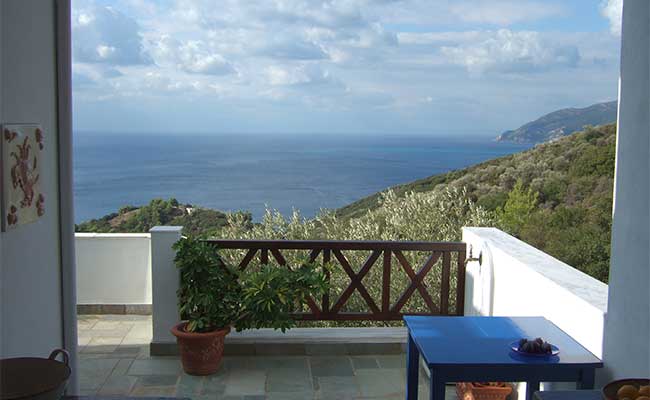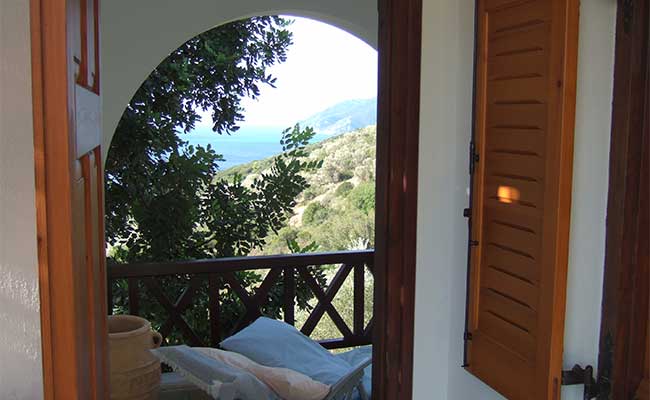 The house faces south providing wonderful views of Skopelos and, on most days, Evvia in the distance. To the east the view includes more islands: the Two Brothers and Skantzoura. The house itself has been beautifully maintained and extended by the owners. It is a proper family home. Below the house, the large, natural garden of citrus and olive trees blends beautifully into the mountainside.
The house is on the very southern edge of Chora, the Old Village, on a bend in the road down to two beaches – both easily walkable (about 15 - 20 minutes). One is tiny, hard to find and secluded. The other is larger, with two excellent tavernas and safe swimming.
Outside
The house, covered terrace and outside kitchen provide over 100 square metres of living space. In addition, a huge open-to-the-sky top terrace, provides additional space for sun-bathing, 'on top of the world' evening drinks, or just taking in the fantastic sea views.
The house stands astride two original building plots, giving an immediate sense of space. Moreover, some 2000 square metres of forest land below the house has been jointly purchased with neighbours so that no building can ever spoil this incredible sea view.
In front of the house is a concrete drive providing parking for two cars (an increasingly precious asset, now that parking restrictions in the Old Village have been imposed). A further gravelled area could be used to keep either an additional car or a small boat. To the West of the house is an area of garden, with road access, of about 300 square metres, which would be suitable for an extension, a swimming pool, or to build another house (planning permission, now lapsed, would be easily renewed). This area, which also faces the sea and has the same stunning views as the house itself, has been maintained in its natural state and is tidy and easily managed.
The house is to be sold fully-furnished with the traditional furniture made especially for the house. This is a most attractive, high quality family home. It has been built in traditional Greek style and materials – earthquake-proof reinforced concrete frame under a timber and tiled roof, with white-plastered brick walls and wooden-shuttered windows. It has been exceptionally well maintained, so that one can live comfortably in the heat of summer, but also in cooler days in spring and autumn. There is ample storage to accommodate at least four adults, with sufficient space for their equipment and clothing to cope with all weathers and sporting activities.
The middle and lower terraces, and the living room and kitchen floors, are beautifully laid with traditional rectangular-cut stone (plaka). The bedroom and shower rooms are laid with ceramic tiles throughout. The wooden balustrade around the outside terraces is made from solid Iroko wood.
The middle-floor terrace provides an excellent area for entertaining. Here one can be comfortable at any time, either shaded from the sun or right out in the heat, if that's what you prefer – and always looking out to sea. Inside, the house stays remarkably cool in the heat of the summer and warm in the cooler months. It has always remained absolutely dry when closed up for the winter.
The two kitchens are beautifully appointed; they provide excellent preparation and cooking space for a keen cook. The inside kitchen has an Italian ceramic sink surrounded by work surfaces laid with French blue tiles. There is a range of purpose-built, traditional kitchen cupboards – they look built-in, but are deliberately free-standing in front of a tiled wall.
The outside kitchen is built around a large English Belfast sink with space for a surface-level gas cooker. Underneath the four large granite work surfaces there is ample storage for a small drinks fridge and cooking and cleaning equipment.
Living room
Although one generally spends most of the time outdoors, the living room is large enough to cope well with 4 adults inside on cooler days. The traditional corner Alonissos fireplace, has been fitted with a 'throat' to prevent smoking fires. Included in the sale is specially made pine furniture: a round dining table (seats 4-6), six dining chairs, a coffee table, a traditional small sofa, and an armchair.
Bedrooms
In the spacious master bedroom one can lay in the super-king sized bed (2.1 m by 1.9 m) and look at the sea. This is a lovely airy room. The double wardrobe, bedside cabinets and large chest of drawers provide a lot of storage for clothes and linen. The traditional open-timbered ceiling is an exceptionally fine example and gives a wonderful feeling of height and space.
A built-in air conditioning unit provides essential cooling in the summer and heating in the winter. The en-suite shower room is spacious, with a large storage shelf and heated towel rail. Outside the bedroom is an extensive, south-facing terrace which looks over the bays and out towards Skopelos and Evvia - a wonderful place for breakfast or for evening drinks.
The second bedroom (on the ground floor) is cool and big enough for two single beds, a fitted wardrobe, two bedside cabinets and a large storage chest. Just outside this bedroom is the downstairs cloakroom, with shower, WC, and wash basin.
Garden
The large, interesting garden has been designed to be natural and can be left for long periods without maintenance. It is planted with small citrus trees and six small olive trees. Other planting includes Mediterranean oleaders, agaves, lavenders and herbs. A large Carob tree protects, and gives a sense of privacy to the East side of the house.
In the garden-level apothiki (storeroom) a washing machine has been plumbed in and there is a sizeable workbench and storage for tools and other equipment. The other, open apothiki is useful for storage of garden equipment and for drying clothes out of sight of visitors. A wood store with a lockable door has been made beneath the outside steps. Under the main terrace, the sterna (water tank) which holds about 16 cubic metres of water is fed two or three times a week with mains water. Under the outside kitchen is another sterna which holds approximately 7 cubic metres of rain water.
Property Specification
The house stands in a double-sized plot of approx 750 square metres of land, above a 2000 square metre area of jointly owned land (not included in the sale).
Original living area of house
Closed apothiki


88 sq. metres
10 sq. metres


Covered areas added:
outside kitchen, second apothiki
Open terraces: lower, middle and top floors

15 sq. metres
57 sq. metres approx


Total floor area of the building and adjoining terraces

170 sq. metres

Middle /ground floor:
East terrace/entrance porch
Living Room and kitchen
Bedroom
Cloakroom with Shower


all measurements below are in metres
7.5 x 2.0
4.3 x 3.9 and 3.3 x 3.0
3.5 x 3.1
2.0 x 1.9


South facing terrace (partly covered)
Outside kitchen

11.3 x 2.4
3.2 x 2.2

A marble staircase leads up to the first floor:
Master bedroom
En-suite shower room
South facing terrace




3.9 x 3.9
1.9 x 1.9 + built in shower 1.0 x 0.85
9.0 (max) x 5.6


Plaka steps lead down to the lower floor:
Lower terrace with outside shower
Apothiki (storeroom)
Apothiki 2 – covered-in area ideal for storage and drying clothes
Wood-store



5.3 x 1.1
5.5 x 1.8
3.6 x 2.2

2.5 x 1.0

Around the property
Concreted driveway
Gravelled area for parking at rear


8.0 x 4.0
6.0 x 3.0 (approx)

Items in the house included in the sale
Small TV and stand
Aerial installed on the roof
Electric cooker – four rings plus oven
Filter coffee machine
Electric kettle
Electric juicer
Electric iron & ironing board
Fridge/freezer in kitchen
Washing machine
Built-in combination safe
Dog grate in the fire
Some pictures on the walls – not all.
Most curtains
Long extending ladder, Step ladder
Power hose
All wood in woodstore
Workbench and all unused wall and floor tiles, paint, etc.
Outdoor chairs and tables (numerous), three sun loungers